Vista Property Management
Let us manage your Vista rental property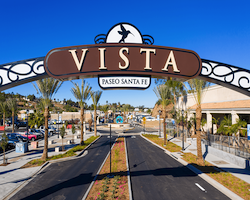 We offer a full range of property management services tailored to you as an investor, homeowner, or landlord.
Why Choose Maximum Real Estate Services to manage your investment? Check out our short and sweet video explaining exactly that!
Free Management Quote
& Rent Analysis!
Why Choose Us
Over 15 Years Of Experience
A+ Rating With BBB
90 Day Money Back Guarantee
24/7 Property Support
Veteran Owned and Operated
What we do as your Vista property manager:
Fill vacancies
Heavily Advertise your rental
Handle tenant inquiries
Background and credit investigations
Application processing
Lease signing
Full service repair
Rent collection
Accounting
Coordinate Evictions
Vacation Rental Set up and Management
Property Branding and Reputation Management
Hospitality Services
Concierge services
Office
603 Seagaze Dr # 525
Oceanside, CA 92054
Phone: (760) 301-5758
Property Evaluation
+
Take-In Evaluation
After acceptance of the property, we perform an initial evaluation of your property and make recommendations to help make sure it meets current state and local property codes and is in the proper condition to lease. Using a comparable market analysis and other resources, we will suggest a rental rate for your property with the goals of obtaining the optimal dollar amount the market will bear based on current market conditions, keeping vacancy periods short and increasing your return on investment.
Periodic Evaluations
Throughout each tenancy, we schedule the property to be visually checked for possible concerns so the condition of the property can be maintained and remain in compliance with state and local property codes. This also gives us an opportunity to determine the tenant's compliance with the lease and their care of the property.
Marketing
+
We heavily market our properties so they get more exposure to potential tenants. Your property would be listed on www.maxmre.com and on over 100 of the top rental sites to include but not limited to, Realtor.com, Zillow.com, Trulia.com, Homes.com, HotFrog.com, Craig's List, ect . As members of the Multiple Listing Services (MLS), we would place your property where thousands of real estate agents search for available rental properties. Additionally, we maintain professional yard signs with minimal but pertinent information to capture the attention of passers-by. We take on all incoming tenant requests and coordinate showings accordingly. More showings produce a better quality tenant.
Tenant Screening and Retention
+
After showing your home to a number of tenant prospects, we will choose the best candidate for you. We use a complete rental application process. We provide a thorough Tenant screening process! These services include:
Credit Report (including credit score)
Nationwide Criminal Background check
Eviction check
Landlord References both current and past
Income and Job verification
Debt-to-Income Ratio
Current tenants – the tenant's payment history, lease compliance and property upkeep are some of the factors taken into consideration before a renewal is offered. A comparable market analysis is used to help determine the current renewal rate. Our attentiveness to tenant's questions and requests as well as maintaining the condition of the property also play a part in giving the tenant incentive to accept a renewal.
Security Deposits
+
Tenant Security Deposits and Pet Deposits are held by Maximum Real Estate Services, in our Brokerage Trust account. This account is a non-interest bearing escrow account and funds are held through the term of the lease. A walk through is done at the time of move in and move out. Deposits are refundable within 30 days of move out if the home is left in move in-ready condition and without damage.
Lease Preparation
+
Our residential lease is a proprietary contract and kept current according to California State Landlord/Tenancy Law. The preparation and presentation of the lease is provided as a service to both Property Management Clients and Lease Service Only Clients.
California Residential Property Disclosures regarding Real Estate Relationships
crime-free addendum
lead-based paint addendum (if applicable prior to 1978)
mold-free addendum
smoke & carbon monoxide detector addendum
pet agreement ( If applicable)
Vista Area Information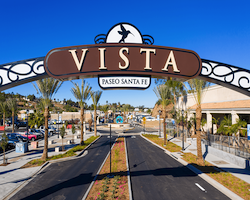 The Vista area was originally inhabited by the Luiseño Indians, who lived on the land until the founding of the San Luis Rey Mission in 1798. The prosperity of the mission-era declined by the 1830s with the independence of Mexico from Spain. The Mexican government began to grant land ownerships to a variety of people, thus beginning the Rancho era of California. Three ranchos were granted in the Vista area: Rancho Guajome, Rancho Buena Vista, and Agua Hedionda Y los Manos.
In the 1850s the ranchos began to fade due to changing political conditions and the scarcity of water. A growing number of settlers came to the area after California became a state in 1850 and began to create smaller agricultural holdings. One settler in the Vista area, John Frazier, applied to open the first post office and after several attempts to name the city (Frazier's Crossing and Buena Vista were already taken), Frazier finally chose the name "Vista". With the opening of the first post office in 1882, Vista had officially arrived. Source From Wikipedia